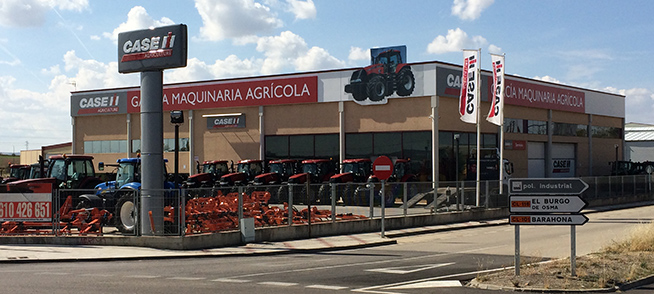 Agricultural Machinery
CASE Tractor dealer. All our range of tractors with guaranteed quality and performance.
Second Hand Tractors
Second hand tractors running. Various models. Check availability.
Used Tractors
The best prices and quality throughout our range of used tractors. Tractors at bargain prices and special offers. See list of available tractors.
García Maquinaria Agrícola S.L., a company with more than 40 years' experience in this industry, is currently a third generation business devoted to this sector. The company, one of the pioneers in the province of Soria, started its activity as vehicle repair shop. Over the years, it has evolved along with the market and 25 years ago it became the Authorized Dealer of Tractors CASE for the province of Soria.
García Maquinaria Agrícola S. L. has at its disposal a covered area of 2000 m² plus another 2000 m² of courtyard devoted to the repair and sale of new and second-hand agricultural machinery in the "La Dehesa" Industrial Estate, in Almazán, one of the most important towns in the province.
Tractors, harvesters, hay balers, tows, ploughs, cultivators, chisel and semi-chisel plows, harrows and all types of earthmoving agricultural machinery.
In line with these activities and during the last 15 years, García Maquinaria Agrícola S.L. has offered sale and repair services for all kinds of vehicles, including top-of-the-range
second-hand vehicles
from the European market.
García Maquinaria also has facilities in Soria for showing top-of-the-range cars consisting of a 400 m² premises, with show windows onto two main streets in the "Las Casas" Industrial Estate.
Besides, you can visit a 200 m² exhibition devoted to top-of-the-range second-hand vehicles in the urban area of Almazán, on the town's busiest road, Avenida Salazar y Torres.
On the same street, you can find another premises with 680 m² distributed on 2 floors for car repair and service.
Our wide experience in the industry, the well-built image achieved during years of services in the province of Soria, and, above all, our interests and aims, are our future base for continuing with our adaptation to market and industry demands.